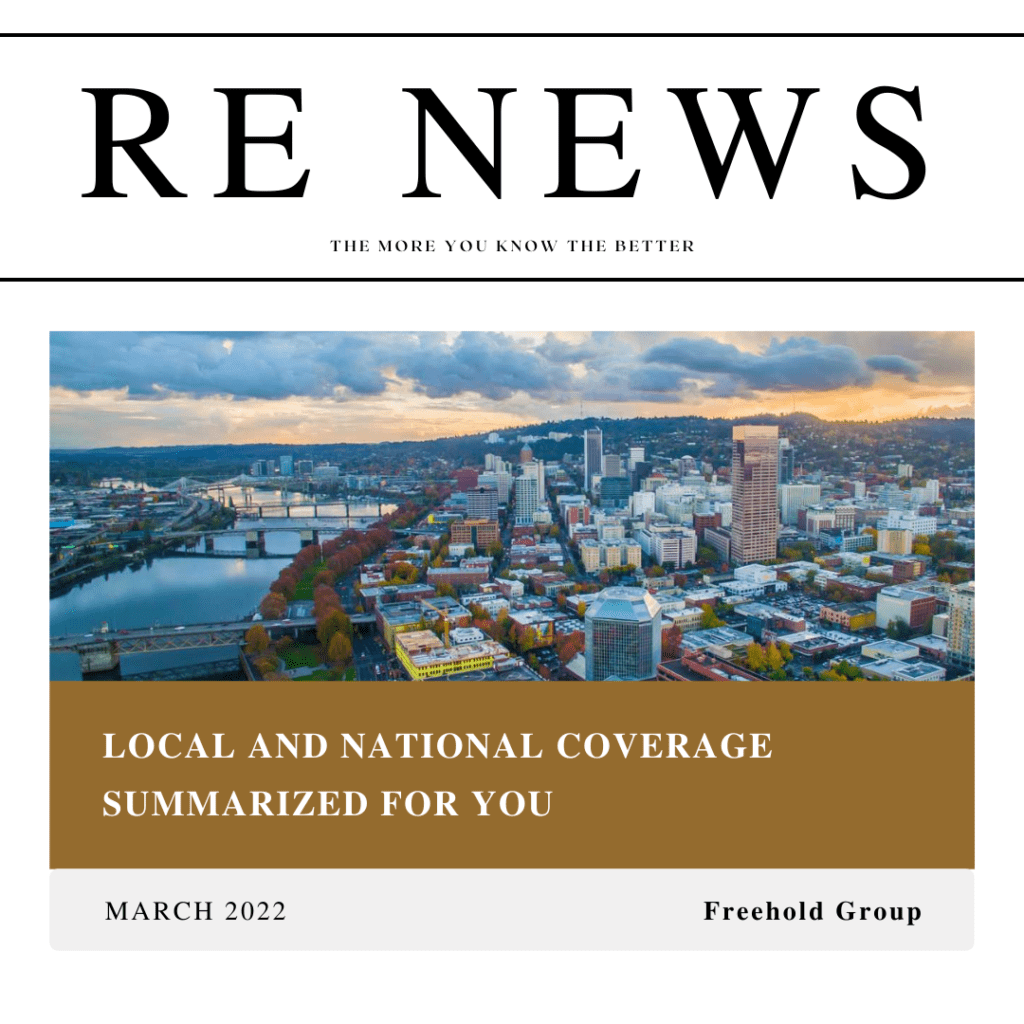 Below are a few noteworthy articles pertaining to real estate in the Pacific Northwest that may be of value to you! Summary and links to the full articles are provided below: 
"Business owners torn over the future of downtown Portland"
Megan Allison, KATU Staff
Monday, March 21st 2022
By Megan Allison, this news story covers the indifference by the downtown business owners' perspectives on the recovery downtown. A couple of business owners of locally-owned restaurants share their perspectives and eye-witness accounts of what they are currently experiencing in the area. Carrie Saum is the business navigator for the Old Town Community points out that while large businesses are exiting downtown into the suburban areas, small businesses are coming in to occupy these vacancies. To see the full story, click the link here.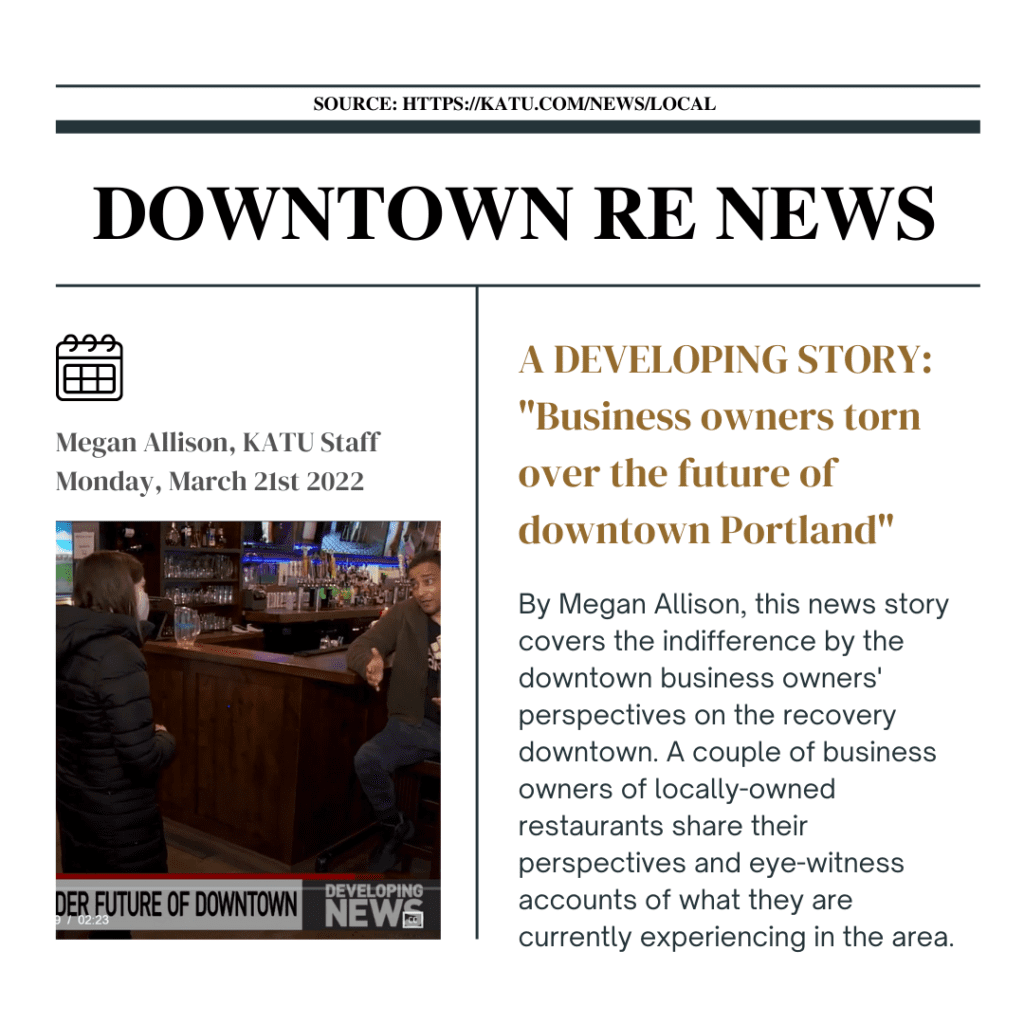 "Waterfront Vancouver projects Kirkland Tower, Hotel Indigo face delays"
By Will Campbell, Columbian Innovation Editor
Published: March 22, 202
The Kirkland Tower and Hotel Indigo located at the Waterfront Vancouver are not immune to the supply and labor shortages in the industry. Permitting delays are also not helping meet their target delivery dates, which have been pushed to June 1st. Some of this attributed to the "complexity" and "Unique Interior" noted by Chad Eiken, the city's director of community. The project commencement began in the summer of 2018 with the intent of being one of the most "upscale" projects taken place in the City of Vancouver.  Notable features of the branded Kirkland Tower include a 12-story glass curtain facade connected to the Hotel Indigo by a shared wall that sits at 8-storys that will include an "atrium interior and rooftop bar".  To read the full story, click the link here.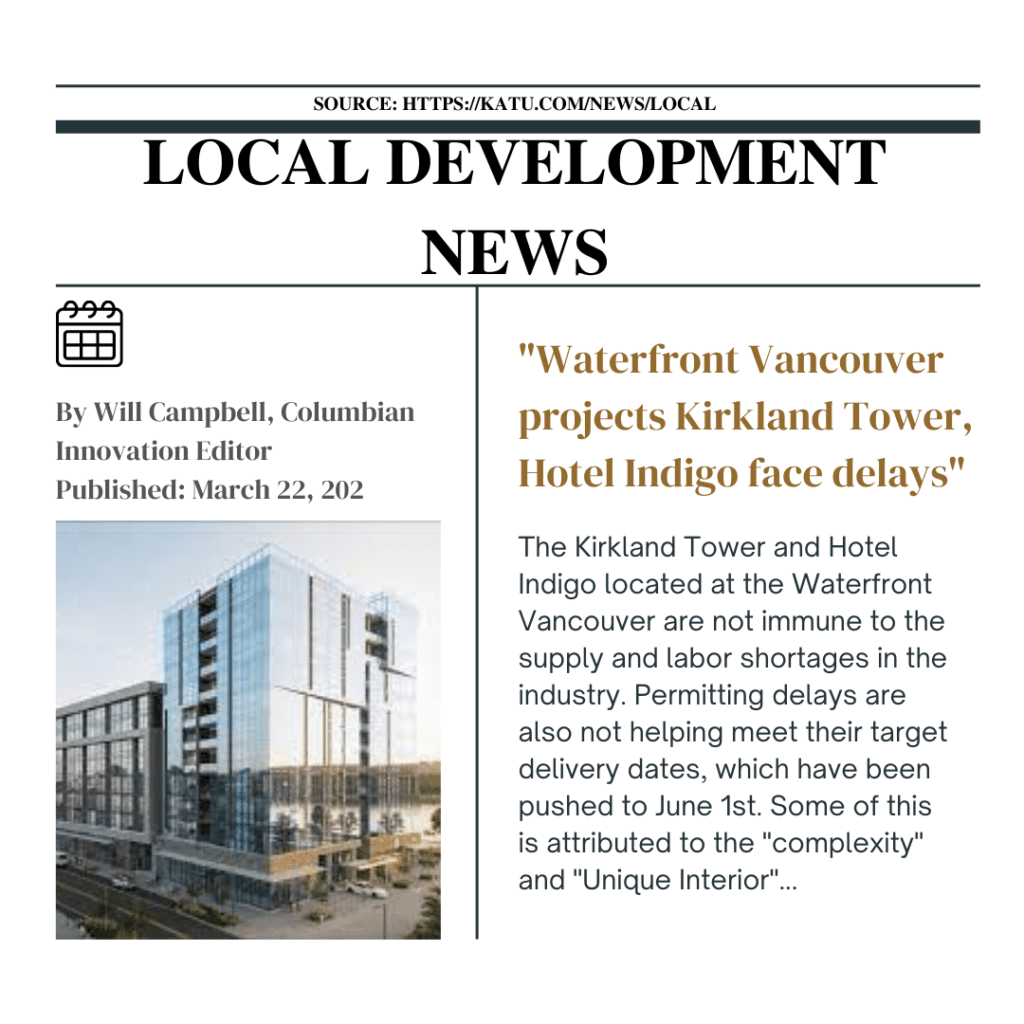 "Remote Appraisals of Homes Could Reduce Racial Bias"
By Debra Kamin | NY Times |
"After Ms. Horton removed all signs of Blackness, a second appraisal valued a Jacksonville home owned by her and her husband, Alex Horton, at 40 percent higher."
Written by Debra Kamin of the NY Times, this article talks about the racial biases associated with appraisals. It points out that now be conducted remotely without an appraiser ever stepping into the home. However, some appraisers believe that despite the studies indicating a pattern in racial bias with appraisals, some believe that remote valuations could create a risk to financial markets. To read the full story, click the link found here.